Join Cruise Everything and a small group of guests as we sail on an ultra luxury riverboat from Amsterdam, Netherlands to Basel, Switzerland on the Rhine through Germany and France
September 6 to 13, 2017
Cruise and Tour Hosted by Betty and Herb Tinley of Cruise Everything
LEAVE YOUR WALLET AT HOME
Scenic Cruises Truly All-Inclusive Luxury Includes Almost Everything
Betty and Herb Tinley are excited to announce they will be hosting their 3rdannual Scenic River Cruise on the beautiful Rhine River, and are looking forward to you joining them. Sailing September 6, 2017 from Amsterdam, Netherlands on the scenery filled Rhine River, we'll not only have the full experience of Amsterdam, but our next two ports of call will be in Germany exploring the magnificent city of Cologne, followed by a stop in Koblenz and a fairy tale tour of Cochem and the Reichsburg Castle. From here we will continue to enjoy the scenery on our way to Rudesheim as we sail through the World Heritage listed Rhine Gorge. This afternoon participate in the tasting of regional wines.
Then, on to Mannheim to visit the spectacular Heidelberg Castle. This evening we are invited guests at an impeccable baroque-period palace for cocktails and a private classical concert. This will be one of the highlights of your vacation. From here we head to Strasbourg, France where tour options include a tour of the city and its famous cathedral, shopping with the Chef in the local market, wine tasting, or a visit to Hansel and Gretel settings in the Black Forest. Once back onboard we head to Basel, Switzerland where we disembark and say good-by to the Rhine River and the Scenic Crystal.
Herb and Betty are excited to introduce you to the extraordinary pleasures of river cruising with Scenic Cruises. They know firsthand that Scenic Cruise is the premier river cruising company delivering the "best value" in the river cruising industry. While others say they are "all inclusive", each of the others has surprises with extra expenses.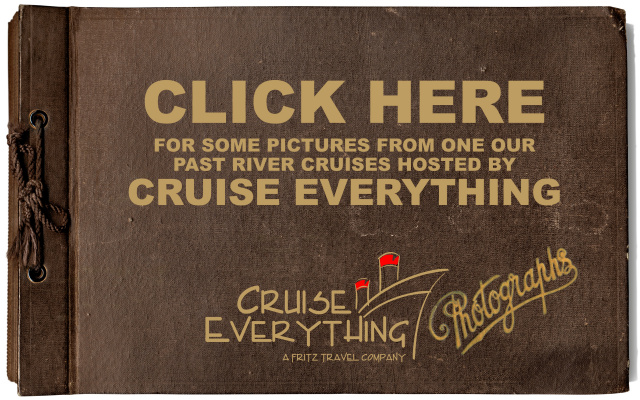 Scenic Cruises delivers what they promise as an all inclusive cruise line. At no time will you ever receive an "alternate charge" or be expected to tip on any of the ship's venues. (This includes tour guides and bus drivers too.) Dollar for dollar, Scenic Cruises is unequaled in value and service.
Sound exciting? It is! Call Herb or Betty at 800-959-7447 or 239-275-1717 to review all the details and secure your stateroom. Remember, the ships are small and availability is limited!
SCENIC CRUISES ULTIMATE FEATURES
Spacious full size balcony suites in 84% of all cabins (Does not include category E & D staterooms)

Scenic 'Sun Lounge'

Six dining venues: including River Café and Table La Rive

Relax in our three viewing areas

Complimentary wine, beer and alcoholic beverages all day, everyday - even in your stateroom or suite!

Private butler service in all staterooms and suites

All shore excursions and activities included

Scenic Riverview – interactive on board commentary

All meals included

In room dining

On board entertainment

Wellness Centre

Complimentary Wi-Fi internet

Electronically assisted Bicycles

Nordic walking sticks

Experienced Cruise Director

Airport transfers

Alltipping and gratuities included
Some conditions apply
Scenic Cruises and Cruise Everything Video
TRIP ITINERARY
Seven Night River Cruise
Amsterdam, Netherlands
to Basel, Switzerland
Sailing September 6 to 13, 2017
Optional Post Tour
September 13 to 17, 2017
09-05-17
Optional Flights from US
Join our group leaders on an escorted flight from Fort Myers (RSW) to Amsterdam or fly from your choice of gateways and meet us in Amsterdam.
09-06-17
Welcome to Amsterdam (D)
Welcome to Amsterdam. Your journey into wonder begins in this fascinating and compact harbor city. Relax and raise your glass to the days ahead at this evening's welcome reception.
09-07-17
Amsterdam (B,L,D)
FreeChoice: With 165 canals that stretch over 100km, Amsterdam's magnificent waterways have made the city world famous and you'll have ample opportunity to explore them. Listen to expert commentary as you take in the countless sights, and learn about the history that shaped this important European capital. Alternatively, discover charming Volendam, with its unusual raised homes and quaint wooden church before heading to the equally charming village of Edam, famous for its round cheese. Later, in the evening, join the Captain for the official welcome dinner.
09-08-17
Cologne (B,L,D)
FreeChoice: Discover medieval Schloss Burg castle, or stroll through Cologne and get up close to the filigree twin towers of the famous cathedral. Either way, it's a great day to see and discover.
09-09-17
Koblenz (B,L,D)
FreeChoice: Take advantage of a guided tour of this historic city, which straddles two of Europe's most beautiful rivers. Alternatively, discover Cochem – a true medieval gem resting on the banks of the Moselle River. Cochem will make you feel as if you're stepping straight into a fairy tale and you'll be able to take a guided tour that culminates in a visit to the iconic Reichsburg Castle. Perhaps, instead you might like to take leisurely cycle on your own, through the fascinating city of Koblenz, passing intriguing palaces and churches, museums and monuments, using your personal Tailormade GPS device and complimentary electronically assisted bicycle.
Sundowners: Enjoy an afternoon beverage on board your luxury Scenic Space-Ship with your fellow travelers, as you glide along the scenic Rhine River. A beautiful moment shared with new friends – what better way to celebrate your journey thus far!
09-10-17
Rüdesheim (B,L,D)
Succumb to charming Rüdesheim, where you'll board the 'Winzerexpress' mini-train for a guided visit of Siegfried's Mechanical Musical Instrument Museum. Later, you can look forward to unrivalled views across the spectacular World Heritage-listed Rhine Gorge as you board a cable car directly to the Niederwald monument, before arriving in Koblenz.
09-11-17
Mannheim (B,L,D)
FreeChoice: Explore the historic university town of Heidelberg, with its fine Renaissance Castle, or enjoy 'Sweet Tastes' of Heidelberg, where you'll have an opportunity to sample some of the local chocolates, bonbon and gummy bears. Alternatively, discover the unique Technik Museum in the charming riverside town of Speyer, where you'll see wondrous technological exhibits not found anywhere else.
Enrich: Enjoy a private tour of a fine Baroque-period Palace, before experiencing a sublime classical concert. It'll be an evening of grandeur unlike any other, and a chance to create memories that you'll cherish for a lifetime.
09-12-17
Strasbourg (B,L,D)
FreeChoice: Visit Strasbourg, where you'll discover La Petite France, the famous grand cathedral and stroll through the old town, with its half-timbered houses and distinctive Alsatian winstubs, or journey to Mittelbergheim in the Alsace and sample some of the best wines the region has to offer. Alternatively, you can taste your way around the local market with your on board chef through our 'Shop with a Chef'' offering. Or you can opt to tour the beautiful Black Forest, the setting for Hansel and Gretel and so many other fabulous tales; take in the spectacular scenery on a guided hike and enjoy a delicious tasting of the acclaimed Black Forest Cake.
Alternatively, explore Strasbourg on two wheels using your Tailormade GPS device. Starting in Kehl on the German side of the river cycle to Strasbourg's European district and see the Council of Europe, the European Court of Human Rights and the European Parliament.
09-13-17
Basel—End of River Cruise
Disembark the Scenic Crystal and continue on our optional post cruise tour or with your own independent travel arrangements.
Optional 4-Night Swiss Land Tour
09-13-17
Montreux (B)
After disembarking the Scenic Crystal, you will transfer to Vevey, the place where milk chocolate was created, and home to Charlie Chaplin once he'd fled the United States. This afternoon you'll get the chance to luxuriate at your glamorous waterfront hotel, located on the shores of picturesque Lake Geneva, where you'll be enjoying a two night stay. Fairmont Montreaux Palace*
09-14-17
Montreux (B)
Enjoy a leisurely morning in Montreux, one of Switzerland's most striking locations, before you cruise to Chillon Castle, across the beautiful waters of Lake Geneva. You will be taken back by the sheer beauty of the setting, and love the included tour. Fairmont Montreaux Palace*
09-15-17
Gstaad > Lucerne (B,L)
Ascend the Swiss Alps to the breathtaking village of Gstaad, where you'll enjoy your highlight lunch with unforgettable vistas. View the peaks of Mount Pilatus and Rigi, and then enjoy an orientation tour of Lucerne. Palace Hotel*
09-16-17
Lucerne > Zurich (B)
Zurich is Switzerland's largest city and home to a host of treasures. Take a walking tour and discover them for yourself, then relax and enjoy the amenities at your luxury hotel. Hotel Schweizerhof *
09-17-17

Zurich (B)
After breakfast you'll be transferred to Zurich Airport for your onward or homebound flight with memories of a truly unforgettable trip.

B= Breakfast
L=Lunch
D=Dinner

*Or Similar 4 or 5-Star Hotel
Itinerary subject to change. Ship's Registry is Maltese.
ALL-INCLUSIVE LUXURY
Scenic 'Space-Ship' Ultimate Inclusions
Complimentary beverages all day, everyday

Private butler service for all guests

Scenic Riverview – interactive on board commentary

Complimentary Wi-Fi internet

Electronically assisted Bicycles

Scenic 'Sun Lounge'

Six dining venues, including River Café and Table La Rive

Return airport transfers

Gratuities
Scenic Enrich
Exclusive once in a lifetime experiences
Enjoy a private tour of a fine Baroque-period Palace, before experiencing a sublime classical concert. It'll be an evening of grandeur unlike any other, and a chance to create memories that you'll cherish for a lifetime.
Scenic Sundowners
Board a cable car in Koblenz for a scenic journey over the Rhine River to the impressive Ehrenbreitstein Fortress. It'll be a moment to remember, and a great opportunity to mingle with newfound friends against yet another spectacular backdrop, whilst toasting the day's end.
Scenic Tailormade
Scenic FreeChoice
Dining Experiences
Early Booking Discount Rates
The following rates reflect the Early Booking savings when deposited by April 30, 2016. Rates listed are scheduled to increase on May 1, 2016.
BOOK NOW AND GET FREE/REDUCED AIR OR UP TO AN ADDITIONAL $1,000 OFF PER PERSON FROM RATES LISTED
7-Night Rhine River Cruise Only
September 6 to 13, 2017
Amsterdam to Basel
Riverview Stateroom from: $3,370.00 per person/double occupancy




Riverview Balcony Stateroom from: $4,265.00 per person/double occupancy




Riverview Balcony Suite from: $4,745.00 per person/double occupancy
11-Night Rhine River Cruise with
Switzerland Land Tour Extension

September 6 to 17, 2017
Amsterdam to Zurich
Riverview Stateroom from: $5,540.00 per person/double occupancy




Riverview Balcony Stateroom from: $6,435.00 per person/double occupancy




Riverview Balcony Suite from: $6,915.00 per person/double occupancy
Please add Port Charges of $250.00 per person to all rates listed above
AIR PROMOTION
Optional Economy Class Air from Select US Cities (Offer Ends April 30, 2016)
Riverview Staterooms: Free Economy Class Air or take an additional credit of $1,000 per person off the above rates




Balcony Staterooms: Fly in Economy Class for $495 per person or take an additional credit of $500 per person off the above rates




Business Class Upgrade Options available at an additional charge upon request
DEPOSIT AND FINAL PAYMENT
Deposit Due: $500.00 per person, non refundable due to secure stateroom.




Air Promotion Deposit: Additional deposit of $1500.00 per person, nonrefundable, due at the time air tickets are issued; approximately 9 months prior to September 6, 2017.




Final Payment Due: May 15, 2017



Cruise Everything is proud to be a member of the Cruise Line International Association. Member Number: 00397213. Florida Sellers of Travel Registration Number: ST14302.
EARLY BOOKING INCENTIVES. Early booking incentive fares are for a limited number of cabins on selected sailings subject to availability at time of booking. All bookings are subject to Scenic Tours full terms and conditions Strictly limited staterooms/suites available on set departures and subject to availability. Early bird offers are not combinable with reduced single supplements on E and D cabins. Optional Items available at an additional charge: Group escorted round-trip airfare from Fort Myers, round-trip airfare from other US gateways, Travel Guard Cruise Protection Insurance (Highly recommended). Information and pricing is subject to change without notice. Minimum of 20 guests required for hosts to accompany tour. While we do our very best to ensure that information and pricing appearing in this brochure and on our website is complete and accurate, we cannot be responsible for incomplete and inaccurate representations, which may or may not be under our control. In the event of a pricing error, misrepresentation or omission, we reserve the right to adjust the pricing or make any other corrections.
(800) 959-SHIP or (239) 275-1717
Office Hours: Monday to Friday, 9:00am to 5:30pm Eastern Time
Copyright ©2018, Cruise Everything and Fritz Travel Inc. All rights reserved.
CLIA # 00397213. Florida Sellers of Travel Registration Number: ST14302
Cruise itinerary, events, celebrity and group hosted participation, amenities and gifts are subject to change.
Click Here For Website Terms and Conditions