2018 Genealogy Cruise
April 15 to 23, 2018 - Eight Night Cruise
Aboard the Five Star Celebrity Cruises Ship
Celebrity Equinox
Your hosts, Gary and Diana Smith, invite you to join them on their 4thAnnual Genealogy Cruise to the sunny Eastern Caribbean for a week of great fun and learning aboard the Celebrity Equinox. A Solstice Class ship, Celebrity Equinox encompasses all the amenities and grandeur of a 5-star resort hotel while sailing to some of the most interesting destinations in the Caribbean. Indulge in five-course gourmet dining, marvel at spectacular nightly entertainment, and ashore, explore the uniqueness of each port-of-call.
Gary and Diana Smith have planned many very special sessions just for our group. We are extremely fortunate that once again our guest speakers will be Dick Eastman and Donna Moughty, who, along with the Smiths will be teaching throughout the cruise, and will be available for one-on-one consultations to address your individual genealogy questions. Topics such as Ireland, Scandinavia, Internet, Technology, Organizing, Immigration, Land, and other Methodology are proposed for the agenda, with more than 25 hours of learning and discussion. All of our genealogy activities take place in private meeting rooms in the
morning and afternoon on days at sea (as well as prior to arrival in San Juan). We will also have meeting rooms available each evening after dinner (and on port days) for those who wish to continue their genealogy discussions. Dinner is planned as a group to allow mingling and discussion with fellow genealogists.
Join Gary, Diana, Dick and Donna, and all those who love genealogy and cruising as much as you! Call our Genealogy Cruise Agent, Herb Tinley today at (239) 275-1717 or Toll Free 12-800-959-SHIP.
Five-star features on Celebrity's Solstice Class Ships include gourmet dining, spectacular entertainment, and onboard activities to be enjoyed by all. Our Caribbean destinations are fascinating, and each shore excursion while in port will leave you with memories to last a lifetime.
April 15 to 23, 2018 - Eight Night Cruise
Roundtrip from Miami to the Eastern Caribbean

Included Amenities, Events and More
Private Daily Genealogy Events




"Open Bar" Cocktail Reception with hot & cold canapés




Evening Meeting Room Available for Private Discussion




Interaction with Speakers Throughout the Cruise
Early Booking Amenities such as Shipboard Credits,
Beverage Packages and Pre-Paid Gratuities may be available
when booking. Call (239)275-1717 or more details!
(Events and amenities are subject to change)
For Reservations or Additional Information,
Call Cruise Everything Today!
(800) 959-SHIP(7447) or (239) 275-1717
Or Click Here To Send An Email for More Information
The Celebrity Cruises Experience
Our Itinerary


April 15 to 23, 2018
Click on the Port of Call for more information.
Date Port of Call Arrive Depart
Sun. 4/15 Miami, Florida 3:30PM
Mon 4/16 Day at Sea-Genealogy Events
Tue. 4/17 San Juan, Puerto Rico 3:30 PM 11:00 PM
Wed. 4/18 Phillipsburg, St Maarten 11:00 AM 5:00 PM
Thu. 4/19 Charlotte Amalie, St Thomas 8:00 AM 5:00 PM
Fri. 4/20 Punta Cana, Dominican Rep. 7:00 AM 5:00 PM
Sat. 4/21 Day at Sea-Genealogy Events
Sun. 4/22 Nassau, Bahamas 7:00 AM 6:00 PM
Mon. 4/23 Miami, Florida 7:00 AM Itinerary subject to change.
IAbout Our Genealogists
Gary and Diana Smith
Gary M. and Diana Crisman Smith are internationally-known professional genealogists who have both been actively involved in genealogical pursuits for over 30 years. They have served on the board of numerous local, state and national organizations, written for genealogical publications, and enjoy speaking at conferences around the country (and at sea). They both served as Lay Librarians at the Westlake (OH) Family History Center for over 20 years. Diana has written courses for Family Tree University and the National Institute for Genealogical Studies, and is also author of "Chapter 4: Scandinavia" in The Family Tree Guidebook to Europe (2013). After a career in teaching and marketing, Gary now dedicates his time to genealogy speaking, writing, and researching. After her career in software consulting and marketing, Diana is also enjoying genealogy writing, teaching, researching, and speaking.
Donna Moughty
Donna Moughty, a Professional Genealogist and former Regional Manager for Apple Computer, has been conducting family research for over 20 years. She teaches and lectures on a variety of subjects including Internet, Irish research and computer topics locally and at national conferences and institutes. In addition, she provides consultations, research assistance and training. Donna attended the National Institute for Genealogical Research at the National Archives, and the Third and Fourth Irish Genealogical Congress in Ireland, the Salt Lake Institute–Irish Research and the Institute for Genealogical and Historical Research at Samford University where she was an instructor for the Irish course in 2011. She is a member of Association of Professional Genealogists and served as chair of the Professional Management Conference from 2005-2008, and the Genealogical Speakers Guild. Donna takes groups to Ireland each October to research. Her weekly genealogy blog can be found at www.moughty.com.
Dick Eastman
Dick Eastman has been involved in genealogy for more than 30 years. He has worked in the computer industry for more than 40 years in hardware, software, and managerial positions. Since he launched it in 1996, Eastman's Online Genealogy Newsletter has grown into a daily publication, available in e-mail and on the World Wide Web. The present newsletter, which highlights events, people, resources, and other news of interest to genealogists, is read by more than 75,000 genealogists all over the world.
Private Genealogist Meetings
Guests traveling on the Genealogy Cruise may make a request to arrange a private meeting with one of our host Genealogists.
CLICK HERE TO REQUEST A PRIVATE MEETING ONBOARD
Genealogy Cruises by Cruise Everything
About Our Ship
Celebrity Cruises
Celebrity Equinox
Voted Best Premium Cruise Line six years in a row by Travel Weekly's Readers' Choice Awards
Celebrity Equinox™ captures the very essence of premium cruising. Even more so after her recent dry dock where she was enhanced with new amenities, some not available on any other ship in our fleet. Now you can enjoy craft beers and comfort food in the new Gastrobar. Or fresh, frozen cocktails on the pool deck at Slush. Shimmering in sophistication from bow to stern, she'll exceed your expectations as soon as you step aboard. Delight in your choice of ten exceptional dining venues. Relax in chic and spacious accommodations. Be surprised to feel grass beneath your feet at the Lawn Club as you sail out to sea. With every imaginable comfort, along with Celebrity's unrivaled guest services, you are bound for an unsurpassed experience no matter your destination.

Celebrity Equinox Facts
Occupancy: 2850 Tonnage: 122,000 Inaugural Date: 2010
Length: 1041 ft Beam: 121 ft Draught: 27 ft Cruise Speed: 24 kts
© 2017 Celebrity Cruises, Inc. Ships' Registry: Malta. All Rights Reserved
STATEROOM AND SUITE OPTIONS
More than a room. An escape within an escape.
Our staterooms are a study in modern luxury, with forward-thinking design, beautiful craftsmanship, luxurious amenities, and innovative storage. Suite guests enjoy a completely indulgent experience with a full list of extras, including European-style butler service. AquaClass®, with its spa-inspired staterooms, provides you with unlimited access to the Persian Garden, and your own specialty restaurant, Blu.
Concierge Class elevates your vacation experience with special perks, including early boarding, a pillow menu, and nightly hors d'oeuvres. Our Veranda staterooms offer breathtaking views and the perfect spot for a private meal or morning coffee. Ocean View and Inside staterooms are thoughtfully designed with ample space, tasteful amenities, and a
sitting area. On Celebrity, your stateroom experience is sure to leave you relaxed and restored.
AquaClass® veranda staterooms offer spa elements infused into the stateroom experience and priority seating in the exclusive and chic specialty restaurant, Blu. These spa-inspired staterooms, offer unlimited access to the Relaxation Room (on Solstice Class only) and Persian Garden as well as a host of other soothing extras. If you love the spa, there's no finer way to travel.
T
he Celebrity Suite Class® is for discerning guests who desire the very best in modern luxury vacations will be able to indulge in Celebrity Cruises' new 'Suite Class' experience. With exclusive new benefits including a suites-only restaurant, VIP lounge, complimentary premium beverages, plus more, the newly launched Suite Class is designed to create the ultimate luxurious experience. Guests will enjoy incredible service from the moment they arrive with their personal butler taking care of every detail. This is the only way to travel. From the one-of-a-kind Reflection Suite, with its jaw-dropping ocean views and unique cantilevered shower, to the stylish Sky Suites, Celebrity's exceptional Suite Class experience is designed to set the standard in modern luxury vacations around the world.
All staterooms include:
Our signature friendly, personalized service with a guest to staff ratio of nearly 2:1

Twice daily service (makeup and turndown)

Daily ice service in stainless steel ice buckets

24 hour complimentary room service

Robes

Custom blended bath products (shampoo, conditioner and lotion), shower cap, cotton balls and cotton swabs

Water/wine glasses

Celebrity eXhale™ bedding featuring custom premium mattresses, plush duvets and pillows, and 100% cotton linens

Hair dryer

Private mini-bar*

Interactive Samsung flat-screen television system to view and select shore excursions, order room service, and watch movies*

Private safe

Dual voltage 110/220AC outlets
CRUISE RATES
Included Amenities, Events and More
Private Daily Genealogy Events




"Open Bar" Cocktail Reception with hot & cold canapés




Evening Meeting Room Available for Private Discussion




Interaction with Speakers Throughout the Cruise
Early Booking Amenities such as Shipboard Credits,
Beverage Packages and Pre-Paid Gratuities may be available
when booking. Call (239)275-1717 or more details!
(Events and amenities are subject to change)
Cruise rates listed are per person and based on double occupancy. Government Taxes and Fees of $131.08 are additional to the rates listed. Rates subject to change without notice.
Additional Details
Government Taxes and Fees of $131.08 per person additional (Subject to change)

Staterooms available at additional charge that accommodate a 3rd

or 4

th

person

Travel Insurance available and recommended - Rates based on cost and age at time of purchase. Click here for information on the Travel Guard Insurance.

Deposit: $250.00 per person

Final Payment due December 1, 2017

Partial payments are permitted up until Final Payment

Cruise line cancellation penalties begin 100-days prior to departure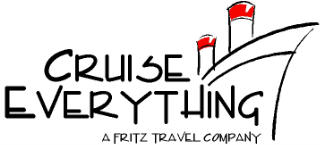 For Reservations or Additional Information,
Call Cruise Everything Today!
(800) 959-SHIP(7447) or (239) 275-1717
Or Click Here To Send An Email for More Information
Cruise Everything is proud to be a member of the Cruise Line International Association. Member Number: 00397213. Florida Sellers of Travel Registration Number: ST14302. Ships Registry: Malta & Ecuador. All information listed is subject to change without notice. Cruise Inclusions: 7-night cruise in Five Star luxury, most meals (Specialty Restaurants have a modest additional charge), activities and entertainment and Cruise Everything exclusive group amenities & events listed. Not included is rates listed: Taxes & fees, gratuities, air, transfers, shore excursions, optional Travel Guard Cruise Protection Insurance (Highly recommended) and other items of a personal nature. While we do our very best to ensure that information and pricing appearing in this brochure and on our website is complete and accurate, we cannot be responsible for incomplete and inaccurate representations, which may or may not be under our control. In the event of a pricing error, misrepresentation or omission, we reserve the right to adjust the pricing or make any other corrections.
(800) 959-SHIP or (239) 275-1717
Office Hours: Monday to Friday, 9:00am to 5:30pm Eastern Time
Copyright ©2015, Cruise Everything and Fritz Travel Inc. All rights reserved.
CLIA # 00397213. Florida Sellers of Travel Registration Number: ST14302
Cruise itinerary, events, celebrity and group hosted participation, amenities and gifts are subject to change.
Click Here For Website Terms and Conditions