July 22 to 29, 2018
Seven Night Bermuda Cruise
Aboard Celebrity Cruises Five Star Ship
Celebrity Summit
Join old friends and make new ones in the Parkinson Community on this spectacular cruise to the exciting island of Bermuda. The days at sea you will have the opportunity to participate in various Parkinson enrichment programs exclusive to our group with several conducted by a movement disorder neurologist.
The luxurious 5-star Summit is the perfect size ship for our group with a maximum of 2100 passengers, not the 4,000 plus found on today's mega ships. Important for our group, the Summit has 3 separate banks of elevators (not just 2 found on most ships), and this design makes it much easier for us to get around. Your home for the week, the Summit features stunning spaces, world class service and accommodations, award-winning 5-course gourmet dining, and a wide variety of onboard activities highlighted by spectacular nightly entertainment.
Herb and Betty Tinley will be your escorts for the week. For many years Herb has specialized in escorting Parkinson cruises, and while we are in Bermuda he will plan and escort an exciting Shore Excursion exclusively for our group.
$50.00 per stateroom will be donated to the New Jersey Chapter of the American Parkinson Disease Association.
Space is limited. Call Herb Tinley at Cruise Everything to reserve your cabin with a deposit of only $250.00 per person. Call toll free 1-800-959-SHIP or (239) 275-1717, Ext. 12.
DON'T MISS OUR FEATURED SPEAKER - DR. DANIEL SCHNEIDER
Dr. Schneider completed residency training in both Neurology and Psychiatry and then completed additional fellowship training at Columbia University with Dr. Fahn in movement disorders and Parkinson's disease. He works at the Robert Wood Johnson Medical School of Rutgers University, specializing in both diseases of movement and cognition. He oversees the most active Deep Brain Stimulation (DBS) clinic in New Jersey and treats a number of patients with Parkinson's disease in all stages of their illness. His guiding philosophy is that PD is a disease of the entire brain and that appropriate care goes beyond treatment of movements to include cognitive and psychiatric symptoms, as well as autonomic complaints like constipation, GI distress, and low blood pressure. He also strongly believes in the importance of assisting the family since strong care-giver support is key to quality care for the patient.
Explore Bermuda with Captain Kate
Date Port of Call Arrive Depart
7/22 Cape Liberty (Bayonne, NJ) 4:00pm
7/23 At Sea
7/24 At Sea
7/25 Kings Wharf, Bermuda 8:30am
7/26 Kings Wharf, Bermuda
7/27 Kings Wharf, Bermuda 3:30pm
7/28 At Sea
7/29 Cape Liberty (Bayonne, NJ) 8:00am
Itinerary subject to change
Departing from Cape Liberty, your voyage begins with exceptional views of New York Harbor, the iconic Statue of Liberty, and the impressive skyline of Lower Manhattan. With so much to see in your first port, you'll wonder how your cruise could get any better.
Bermuda possesses all of the stunning attributes of a tropical paradise, with a decidedly British flavor that offers an interesting contrast and unique travel experience.
King's Wharf has something for everyone. Taste local flavors and stroll through the shops and museums near the sun-bleached Royal Naval Dockyard military fortress. Or have a close encounter at Dolphin Quest, where you can see, pet and swim with these magnificent marine mammals.
Constant improvement creates the height of modern luxury.
The Celebrity Summit reached the peak of modern luxury with a grand makeover in March 2016. Our first Rooftop Terrace provides a chic new way to experience the great outdoors with creative cocktails, favorite snacks, and movies alfresco. Craving Italian? Tuscan Grille serves up fresh pasta and succulent dry-aged steaks. Enjoy an unordinary dinner at the innovative Qsine®, then top off the night with a chilled Peartini at the ice-topped Martini Bar. The Penthouse and Royal suites have limmering new marble touches, elegant fixtures, plush seating, and more. Celebrity Summit has the privilege of being captained by first American woman to command a cruise ship, Captain Kate McCue.
Celebrity Summit Facts
Inaugural Date: October 1, 2001 Occupancy: 2158 Tonnage: 90,940
Length: 965 ft Beam: 105 ft Draught: 26 ft Cruise Speed: 24 kts
Cruise Pricing Includes...
Celebrity Cruises Amenity Package applicable at time of booking. This can include open bar drinks, additional shipboard credit, pre-paid gratuities or unlimited internet access. Ask for more details.




$50.00 per stateroom donation to the New Jersey Chapter of the American Parkinson Disease Association.




Private Cocktail Reception with Hot & Cold Canapés.




Private Programs will feature Danial Schneider, MD, movement disorder neurologist; Fitness Instruction with Jean White, and lots of Fun & Games.

Experienced escort from Cruise Everything. (Escorted Shore Excursion available at additional charge)



Events and amenities subject to change.
Cruise Pricing Starting At...
Cat 9 Interior Stateroom From $1,409.00 per person




Cat 7 Oceanview Window Stateroom From $1,619.00 per person




Cat 2B Balcony Oceanview Stateroom From $1,969.00 per person
Additional Information
All pricing is per person based on double occupancy and subject change and availability.

Other Stateroom Categories and Suites not listed available upon request.

Handicap staterooms available, but are limited and booked on a "first come first served" basis.

Government Taxes & Fees an additional $188.63 per person.

Deposit of $250.00 per person required to secure a booking.

Travel Insurance available and highly recommended.

Optional pre/post hotel and air arrangements not included, but available at an additional cost.
Ships Registry: Malta.. All rates listed are per person, based on double occupancy and subject to change and availability. Cruise line reserves the right to add a fuel surcharge. A minimum guest count is required for featured group escorts to accompany group. Group amenities and events subject to change. FST: ST14302. CLIA: 00397213.
FOR RESERVATIONS OR INFORMATION, CALL...
(239) 275-1717 or 1-800-959-SHIP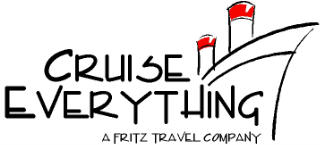 While we do our very best to ensure that information and pricing appearing in this brochure and on our website is complete and accurate, we cannot be responsible for incomplete and inaccurate representations, which may or may not be under our control. In the event of a pricing error, misrepresentation or omission, we reserve the right to adjust the pricing or make any other corrections.
(800) 959-SHIP or (239) 275-1717
Office Hours: Monday to Friday, 9:00am to 5:30pm Eastern Time
Copyright ©2018, Cruise Everything and Fritz Travel Inc. All rights reserved.
CLIA # 00397213. Florida Sellers of Travel Registration Number: ST14302
Cruise itinerary, events, celebrity and group hosted participation, amenities and gifts are subject to change.
Click Here For Website Terms and Conditions